Anne-Sophie Leclère (right) with Marine Le Pen
The following facts are symptomatic of mounting xenophobia, racism and homophobia in France.
Taboos are now being broken, and this is reflected in the language being used.
Christiane Taubira was born in 1952 in French Guiana. She is the Minister of Justice.
The Front National, led by Marine Le Pen, is the main far-right party. It has sought to become a mainstream party by cleaning up its image – by dedemonising it, as Ms Le Pen puts it.
So much so that it has recently decided to sue whomever refers to it by the term far right. 
Also read: The resistible rise of Marine Le Pen
photomontage representing Christiane Taubira
on Anne-Sophie Leclère's Facebook page
On 17th October, a French TV channel, France 2, broadcast an investigation titled "les nouveaux visages du Front National".
One of the interviewees, a Front National candidate for the 2014 local elections, Anne-Sophie Leclère, commented on the photomontage she had posted on her Facebook page:
C'est une sauvage. Je préfère la voir dans un arbre après les branches que la voir au gouvernement.

She's a savage. I prefer to see her in a tree swinging from the branches rather than in government.
Christiane Taubira is the object of a particular hatred among a category of the French, because of four crippling defects in their eyes:
- She is a woman, so she has no legitimacy to be a minister.
- She is from an overseas department, so she cannot represent Metropolitan France.
- She is black: being inferior by nature, she cannot represent Justice.
- She was the driving force behind two laws: one recognising the Atlantic slave trade and slavery as a crime against humanity, the other giving homosexual people the right to get married.
Although these laws have been passed by the French parliament, diehard opposition to "le mariage pour tous" ("marriage for all") is ongoing.
Traditionalist Catholics play an important part in this opposition. Children are brought along to the demonstrations organised to disrupt the official visits made by ministers to different parts of the country.
On 25th October, as Christiane Taubira was at Angers, in north-western France, one of these demonstrations took place. Brandishing a banana skin, a little girl chanted:
La guenon, mange ta banane!

Female monkey, eat your banana!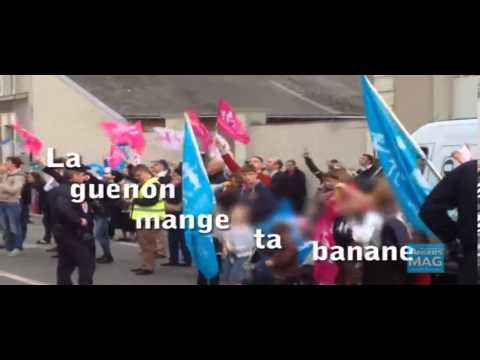 Following this incident, the far-right weekly Minute, dated 12th November 2013, had this cover:
There are two dubious puns:
- The expression malin (feminine maligne) comme un singe corresponds approximately to English crafty devil, but its literal translation is cunning as a monkey.
- The expression retrouver la banane translates as to get back into shape, but means, literally, to find the banana again.
Previously, on 20th October, during one of the demonstrations against le mariage pour tous, a Catholic priest had chanted:
Y' a bon Banania! Y' a pas bon Taubira!
Banania is a chocolate drink. Commercialised since 1912, its logo represents a jolly Senegalese infantry man enjoying Banania.
The slogan Y'a bon Banania derives from the pidgin French invented by the army for its colonial soldiers (who were deemed incapable of learning proper French).
This advertisement has recently been modified, yet again to abuse Christiane Taubira.
On 18th September, Claudine Declerck, a town councillor of Combs-la-Ville, near Paris, posted the following picture on her Facebook page (le petit déjeuner carcéral means the prison breakfast):